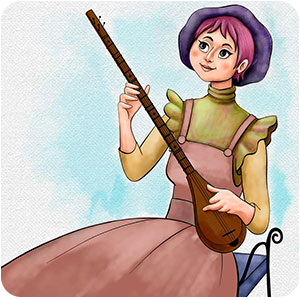 Solmaz Naraghi performs her stories and poems with Setar, composes and uses some capacities of traditional Iranian music and musical theater in creating and performing her works for children. In her career, she has written, directed and composed the musical series "Amou Nowruz and Mousighar Bird", (Nowruz 1401, broadcast on Persian BBC TV), the book and album of maternal songs "Tati-tati", (first edition, March 2019, second edition, February 2021) the book and the musical video "Hunter and Ducks" (2014) and the songwriting for the title of the Mehmouni (ceremony) TV program by Iraj Tahmasab (2022).
Amou Nowruz and Musghar Bird Series
Written, directed and performed by Solmaz Naraghi in seven episodes, it was produced by Nova Studio (London) and Nowruz 1401 was aired on BBC Persian TV in the children's full-length program.
The semi-animated series, written, directed and performed by Solmaz Naraghi, Amou Nowrouz , the ancient Iranian harbinger figure of the new year, having a different look and equipped with modern life tools, begins a fantasy journey before the end of the year in the hope that he can find the best "Sins" ( letter sounding like "S" in the beginning of the seven objects of luck) for his Haftsin (seven symbolic comestible begins with S letter) with the help of his Siin finder application in order to find in those special lands what he needs to take his magic cart to Alborz and play Sornaa (a musical instrument) there and thus announce the coming of spring.
But in each land, he is forced to give the tray he took from the previous land, which is a sign of one of the good human qualities, to the next land, which they lack. In this way, when he reaches Alborz, he does not have any of Haftsin's clothes in his cart. But the real Haft Sin is now under his feet. In the lands that have found a better life with the help of Amou Nowruz. The illustration of this collection was done by Sara Atesh Hosh, and the animation by Morteza Mashoudi.
The melody and lyrics of the songs were composed by Solmaz Naraghi, and Saman Ehteshami arranged the pieces, composed the music, played the piano and percussion, and Mohi Niko was responsible for sound recording, mixing and mastering. The narrators of this work include Shahreh Lorestani, Saman Ehtashami and Hossein Shabani.
The video book, "Hunter and Ducks", written, directed, composed and performed by Solmaz Naraghi, Tombak Davood Ghahroudi, illustrated by Sara Miyari,  illustrated and edited by Shahab Haji Mashhadi and translated by Ali Sabati, published by Bazi and Andisheh Publications, on February 2022.
In this work, Solmaz Naraghi has tried to revive the millennial tradition of one-man storytelling with an instrument with the help of modern technology for Persian-speaking children and adolescents as its audience. The age group of this book is from 5 to 12 years old. In this work, the child will be confronted with a combination of a real narrator and animated images, and hears a story from the Far East with Persian poetry and Iranian performance in classical Persian music, with a short reference to one of the most famous melodies named "Farah" in Homayoun Dastgāh (or musical tonality).
The sound album, Tati-Tati, consists of ten maternal songs made out of various situations in which a toddler is involved, from walking stages, eating, bathing, and growing teeth, to playing hide-and-seek and bouncing around. In addition to a virtual illustrated version, this book was first published by Bazi va Andisheh publication, Faburary 2021, in 2000 volumes, and then had its second release in January 2022. 
Eight pieces of this collection were performed with playing Setar, and percussion instruments, along with tar and tonbak. This work is created by the composition, lyrics-writing, and singing of Solmaz Naraghi, along with setar-playing of Hamid Khansari, Farzad Kabiri's tar-playing, tonbak and tambourine playing of Mehdi Karimi and Hamid'Reza Aadaab. Two melodies of this collection, that is, "Ferenie" and "Little Finch" and two pieces "a la garcon" and "Yeki Yeh Pooleh Khoroos" originally composed by late Javad Badi'Zadegan. In the introduction to Tati-Tati, Solmaz Naraghi writes: "frequent demands of the parents and music instructors and those children engaged in learning music, in form of singing or playing an instrument, caused half of the present book being dedicated to the musical notes of these pieces." The transcription and edition of the notes were done by Seda Sedifi, the music-composer and canon-plyer, and Hamid Khansari, the lute-player and music master. The other half of the book is dedicated to the lyrics and Sara Miyari's illustrations.
Iraj Tahmasb came to the home show network with a new puppet show called "Mehmooni" in Nowruz 1401 (March 2022). 
Iraj Tahmasab, who returned after four years away from cinema and television, sang the first credits of this program with a lyric by Solmaz Naraghi, composed by Amir Tavassoli and performed by Milad Nowdast on guitar.
Mehmouni drama series, directed and performed by Iraj Tahmasab, and produced by Hassan Khodadadi, has been published by Namava Home Show Network.
For enrollment in these courses, use the following link:
The workshop course of music and imagination, presented by Solmaz Naraghi in collaboration with Fooladvand Academy for the age-range of 5 to 12. It consists of a series of mental and practical exercises for educating children's ears and introducing them to the basic principles of music through story-telling and imagination. These exercises enforce the power of creativity by the help of imagination, association, description, and composition in the art-pupils and provides them with an opportunity to hear some of the most significant musical pieces of the whole world.